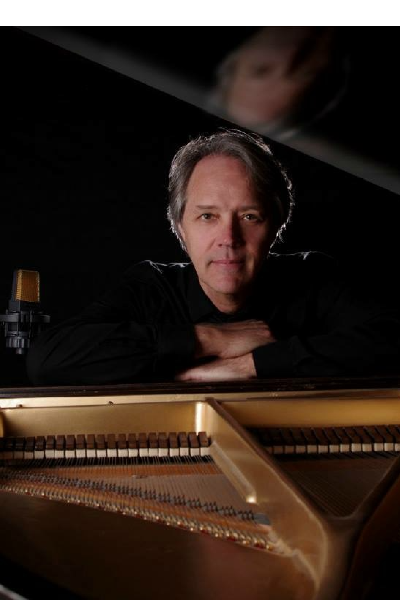 Marc Hoffman
Professional, creative and diverse -- Marc Hoffman's range of keyboard styles and exceptional vocals make him the ideal musical choice for any event; wedding celebration, corporate gathering, cocktail party or private function, large or small. Marc is a highly respected pianist and vocalist and strives to provide the ideal music to compliment any occasion. With a vast repertoire and a willingness to learn new songs and pieces as well, the musical sky is the limit. To date, Marc has provided music for over 200 wedding events and literally thousands of others. Marc carefully chooses the perfect music for each event, whether background or performance, and is available for bookings as a soloist or with duo, trio, or other ensembles.

After establishing himself as a composer and performer of film, theatre, pop, classical and gospel music, Marc Hoffman began pursuing his passion for jazz in the early 1990s. As a pianist and vocalist, Marc performs over 150 dates a year with a repertoire of original jazz and his own arrangements of standards, ballads, and pop. He most often performs with his trio, but works as a soloist and with other ensembles as well, at concerts, festivals, clubs, and other public and private events. Marc's music has been performed across the US and in the UK and Europe by orchestras, other ensembles and soloists.

Marc Hoffman was born in Salisbury, NC, received a degree in composition from the North Carolina School of the Arts, and completed additional study in film composition at the University of Southern California. He also studied at The Dartington International Summer School of Music in Devon, England. His composition teachers included David Ott, Leo Arnaud, Neil Hefti, and Sherwood Shaffer. He is a member of BMI and the American Composer's Forum.

Marc's original instrumental recordings include Late September & Curioso (jazz ensemble), Long Way Home (solo piano), and the feature-length film score, Astral Force.

Vocal recordings include Christmas Time, I Will, and Dream of God, and Always Waiting.

Marc's film work includes theme and underscore for the TV series, Scienstars (2017) an original score for 40 Fears for Dalliance Films (2014). Previous film credits include scoring The Mill (2008) and music historian for the 1985 film, Revolution (1986). In addition, Marc has been music supervisor for several films.

Also and author, Virillion Music Publishing released Marc's first children's book, "Sleep, Little Child" with accompanying CD entitled and based on an original lullaby. Marc's instructional book and companion DVD, "Essential Worship Keyboard" was released by Emerald Books. Marc teaches piano, voice, composition, theory and piano improv at Salisbury School of Music in Salisbury, NC. www.salisburyschoolofmusic.com

Marc Hoffman lives in Salisbury, NC with his wife, Anne and daughter, August.