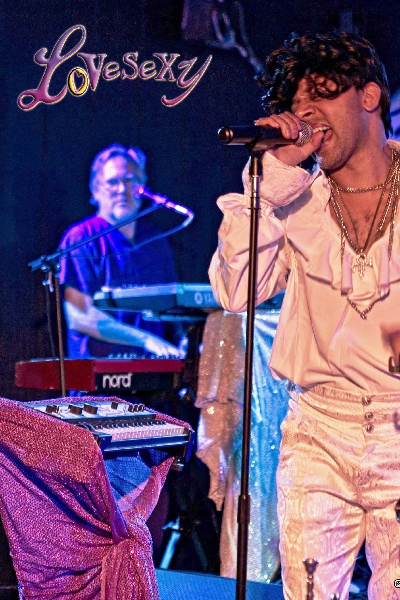 LoVeSeXy (PRINCE tribute)
LoVeSeXy is New England's "Premier" tribute 2 the music of PRINCE!

LoVeSeXy performs a remarkable, spot-on sound-alike, hi-energy show featuring a wide range of songs including all of PRINCE's greatest hits, from his early years and throughout his long career. The show also features songs by other Prince-related artists including Sheila E. and Morris Day & The Time!

LoVeSeXy was formed in Boston in the summer of 2008 by three musicians & lifelong fans that shared a mutual admiration for the artist known as Prince & a desire to share his music with audiences everywhere!

Instead of simply focusing more on the image, outlandish costumes, using gimmicks & large productions like most other Prince tributes around, the focus for LoVeSeXy is a "true to the record" vocal performance & an honest representation of Prince's beloved music, his diverse songwriting, hi-level musicianship & his amazing connection with the audience. True fans of Prince have always appreciated the genuine feeling LoVeSeXy presents compared to other over-hyped (and overpriced) .." trying to be Prince".. impersonator acts out there.

LoVeSeXy ..with a total of four accomplished lead vocalists, showcases some of the finest musicians anywhere, each having an impressive resume, each with over 25 years of performing & recording in the New England Music Scene & throughout the US.

The group's lead vocalist/frontman Giovanni Morant is a dynamic seasoned entertainer with a remarkably similar voice, a charismatic personality, killer dance moves & a strong stage presence. Gio is also a multi-instrumentalist who plays guitar, keys & trumpet. Joined by acclaimed guitarist/vocalist Jodee Frawlee (Guitar Player Magazine's national talent search finalist & "Boston's Best Guitarist" award winner) and a multi-talented line-up of accomplished players & singers they've established themselves as one of the finest 6-piece Prince tribute acts in the US.
From his most popular songs like Let's Go Crazy, 1999, When Doves Cry & Purple Rain ..to some Prince "fan favorites" such as Adore, Uptown, 17 Days & America, LoVeSeXy will impress and entertain everyone from the seated music critic to the "party all night" dancer!

LoVeSeXy was nominated "Best Tribute Band" by Motif Magazine in 2016 was & "Favorite Tribute Band" by MyFM local music awards in 2018! LoVeSeXy were the featured act at Boston JazzFest 2016 & the New England Music Awards in 2017.

Join LoVeSeXy as they celebrate the music of Prince, his life, his legacy, and his spirit.