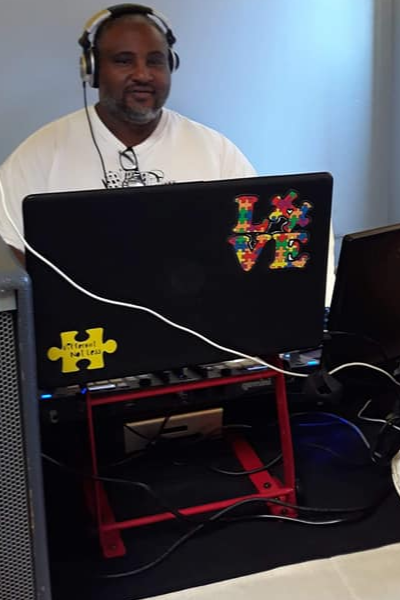 Dabbs McInnis
Hello, I am David E McInnis, however, please call MR. DABBS.

About ME
I am happy to have this opportunity to tell you about myself. I am married to a wonderful woman named Michelle and we together have 5 children with one who lives with us. We are also the proud grandparents of 6. Together there are 5 boys and 1 girl.
In my spare time, I love music and have been a DJ for over 30 years. I have taken an interest in building creating things. I own 2 sewing machines, Cricut, and a heat press. I make candles, earrings, and masks I am handy and love doing DIY projects around the house. I am also a mentor for ILRC.

Business Background
My wife and I have started a business called The Sweet Spot & Urban Lounge. We also started a nonprofit called Dare 2 Hire Different where we help and hire people with learning differences. I am a Professional DJ and started DJing when I was 13 years old. I have over 30 years of experience entertaining crowds at weddings, church events, company events, fundraisers, and many other celebrations in and around the Jacksonville, Florida area. I have a passion for music and enjoy teaching children and adults with learning disabilities. I have been in the education field for over 20 years teaching students with differences. Music will be a sensory form of therapy. I will help, train, and teaches people with differences about, higher education, available employment, and show them how they can open their own business.
Educational Background:
Instagram


My schooling expands over many years - I graduated from Bremerton High School in Bremerton, Washington in 1983. In 1985 I attended the University of Washington majoring in communication. In 2006 I graduated from Western International University where I obtained my Associate of Arts in Business. I then enrolled at the University of Phoenix earned my Bachelor of Science in Management. I then attended Grand Canyon University where I earned my Master's in Special Education.

Teaching Background:

From September 1990 to June 2001, I worked for the Bremerton school district. I had many jobs in between but I missed working with students, so I returned to my 1st passion in 2008, education. From 2008 to 2010 I worked for the Central Kitsap school district and started attending school to earn my teaching degree. In November of 2010, I relocated to Jacksonville, Florida. I worked as a tutor with Quantum Leap Tutoring while continuing my school studies in special education. I was a substitute teacher with Tiger Academy from February 2011 to April 2012, then obtained a permanent teaching position at Lighthouse Christian School from 2012 to 2015. I taught 7th grade for a year at Cornerstone Neighborhood School 2015 -2016. Duval County Schools (Alden Road) from 2016/2017. From 2017 to 2020 I was teaching at Broach Schools. My last teaching job was @ San Jose Prep in Jacksonville, FL. I started there on 09/2/2020. I was working as the ESE sub until I finish these classes. I am now working on Dare 2 Hire full-time.