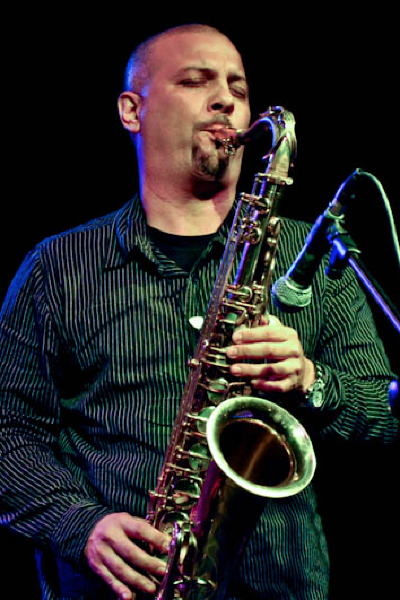 Chelo Segui Band
Chelo Segui is a composer and a saxophone player.
Born in Cordoba (Argentina) , 1967. His musical career began at the age of five, as a member of the "Domingo Zipoli" Children Choir, touring Europe in 1980 and also performing for Pope John Paul II in Vatican City. In 1985 he graduates as music teacher and choir director from Zipoli Institute. He worked as an educator in this area. At this time he also began his saxophone studies at "La Colmena School of Music" and also participates in many local rock and jazz bands.

In 1988 he migrates to Italy to further deepen his sax studies under Paolo Tomelleri's guidance.

In 1994 Chelo returns to Argentina, teaching at "La Colmena" and Cordoba's official "Conservatory of Music Felix T Garzon". He also performs in many rock and Jazz/fusion bands: "Los Musicos del Centro", "Mundo Arjo", "Trio 4", "La Groove", "Jam". He records his first indie album with pianist J.C. Penaloza "Musica de Los Sentidos" and his first solo album "KU".

In 2001 he migrates again, this time to the USA, continually collaborating, touring and recording with internationally known pianist Raul Di Blasio and many other artists mainly in the latin scene .
Currently Chelo is also working on the promotion of his own new jazz project "From Now On" , touring with Raul Di Blasio and playing also local venues in South Florida, Including South Beach, Midtown, Downtown, Hollywood and Fort Lauderdale.
Chelo works very well improvising on DJ's performances, adding a "live" color to their performances. Chelo plays Soprano, Alto and Tenor Saxophones.