What do You Need for a Wedding DJ Setup?
Wedding DJDJ Setup
DJ Deck
A DJ deck is the base of any DJ setup. DJ decks serve two purposes: playing tracks (songs) and mixing them. Back in the day, the only option you had was turntables and a mixer, but thanks to digital technology, there are many different ways of mixing music today:
Turntables and Mixer: Old school DJing, only recommended for hip hop and scratch enthusiasts. If you want to have flexibility and variety in your music selection (and most times you will for a wedding), this option is not recommended.
CDJs and Mixer: CDJs are versatile CD players that also can play music from a flash drive or through a connection to a laptop, making them considerably more flexible than turntables. CDJs are the preferred option for professional DJs and are considered the industry standard in clubs. However, their price and bulkiness make them a rare sight in mobile DJ setups.
Controllers: Controllers are by far the most popular DJ deck for a wedding. Controllers work together with a laptop to mix music digitally with some kind of DJ software (Traktor , Serato …). They are the cheapest option and the easier to carry and set up. In addition, since it is the laptop playing the music, it allows last minute requests to be downloaded and played easily.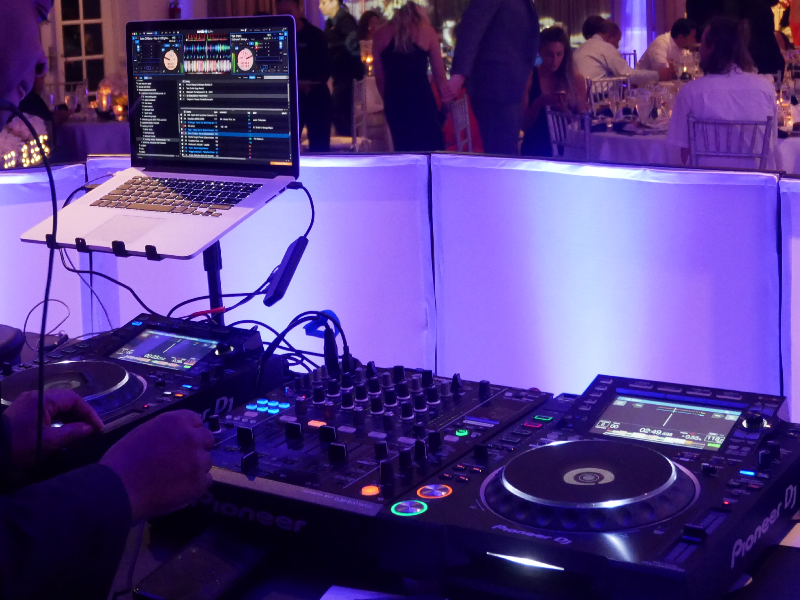 Build DJ Setup