Ideas For Wedding Reception Songs
Wedding ReceptionWedding songsMiami Wedding
The Wedding Party
Depending on the type of wedding and your personal preference, you can have the DJ or Band play specific songs for the newlywed or wedding party introductions. You can select specific songs for the wedding party members or have one particular song during the wedding party entrance. Here's the song we recommend along with some other high energy mentions:
I Got A Feeling – Black Eyed Peas 
Get Lucky- Daft Punk 
Everybody - Backstreet Boys 
It's time for the Bride and Groom's entrance, make it impactful! Here's our song selection for a spectacular entrance along with two other familiar mentions: 
Let's Get It Started – Black Eyed Peas 
Sugar – Maroon 5 
Just Dance – Lady Gaga  
The adrenaline is pumping and now it's just you and your spouse gazing at each other while the first dance song is played. What song do you want to represent that moment? Here is our top recommendation along with two other songs that will have the room in tears: 
Can't Take My Eyes Off of You- Lauryn Hill 
Tennessee Whiskey- Chris Stapleton 
At Last- Etta James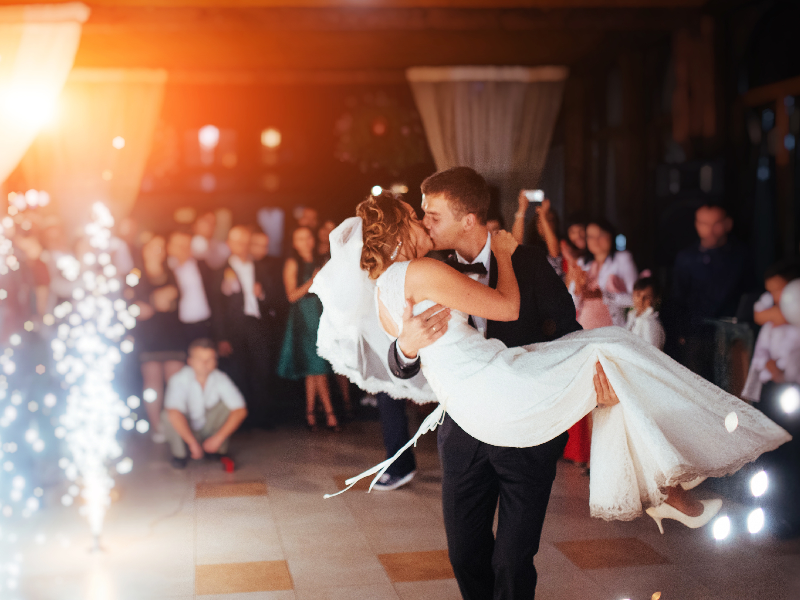 Dinner
The newlywed's dance is over and everyone is taking their seat. You want the energy of the room to still feel like a representation of your love. The DJ or band needs to set the mood. Below are the genres of music we recommend be played at this point of your reception:
Motown
Bossa Nova
Classical. 
It's time to toast and a loved one grabs the mic. The music can stay the same depending on whether there's a presentation or not. Make sure that the Dj or band knows ahead of time to transition back into the music at the right time. Typically, the next step is the cutting of the cake, the symbolic representation of your first activity done together. We recommend choosing a song that connects a memory of the time you first did something with your partner. If nothing comes to mind, below is a song we recommend along with some other recommendations:
Yummy- Justin Beiber
Cake By The Ocean- DNCE
I Can't Help Myself- The Four Tops
Wedding Traditions
We'll cover some traditions and our recommendations for songs. The bouquet toss's meaning is related to luck. Choose an energetic song that will make the women attending want to get up and volunteer. Similar to the bouquet toss, the garter will typically be tossed and one lucky bachelor within the group of bachelors will catch it. Before the toss, the groom will have to take it off his wife's leg. Here is our top pic along with some other mentions:  
My Pony- Ginuwine
How does it feel- D'Angelo
All my life- K-Ci & JoJo
The anniversary dance can be an addition or alternative to seeing uncle Mike potentially hurting himself jumping for the garter. Typically, you call all the married couples to dance and the MC will have the longest-married couple stay on the dance floor. That couple will probably have been married 60 to 70 years ago. Here's the song we recommend that represents that era along with some of our other recommendations:
Can't help falling in love- Elvis Pressley
When a Man Loves a Woman- Percy Sledge
You are so beautiful- Joe Cocker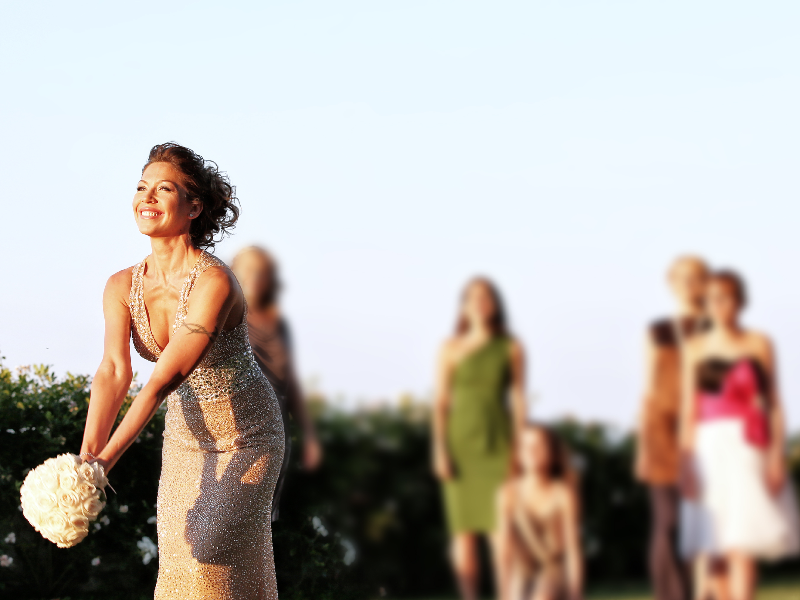 The Dance Floor is Open!
The dance floor is open and the DJ or band needs to get the party started. You've hired a professional so they'll know how to get your guest dancing. Below is a song that is typically used to get the party started along with two other party starters:
Let's get it started- Black Eyed Peas
I Wanna Dance With Somebody- Whitney Houston
Uptown Funk- Mark Ronson
Keep your gust dancing! Maybe you're not into mainstream music and want to stick to one genre of music, I'm here to tell you that you have to compromise. A DJ can easily find cover dance songs that your guest will enjoy. You've shaken everyone's hands, cried a lot, but it's time to bring it back to you and your spouse with the last dance. Pick an unforgettable love song that will forever represent your love. If you need some help deciding, below is our top choice along with some runner ups:
I Don't Want To Miss A Thing – Aerosmith
If I Ain't Got You- Alicia Keys
By Your Side- Sade
The night has been amazing but it's time to notify everyone that it's almost time to go, the MC advises that it's the last call and the music needs to be toned down. A few songs get played and you are your spouse are ready for your grand exit. Here is our grand exit recommendation that will have you go out with a bang along with two other songs that will make your exit emotional and unforgettable!  
Love Me Like You Do- Ellie Goulding 
Firework- Katy Perry
Don't Stop Believin- Journey
Browser Artists