How much does a wedding DJ cost?
Wedding DJMiami DJsMiami Wedding
The Right Balance
The total cost of a wedding DJ can vary greatly, with prices ranging from $100 to $10,000. For this reason, many people may feel lost when choosing the right DJ for their wedding.
A few things influence the final price for your wedding DJ: Time, Experience, Popularity, Equipment, Lighting/Effects and Special Requests. Knowing how these variables affect the price, will help you make the best decision when hiring your DJ, and most importantly, allow you to seek DJ services with great value vs DJs with inflated prices or poor quality.
Weddings are expensive and after adding up all the costs, you may be tempted to go with a DJ on the cheaper side of things. The problem is, you also want your guests to experience quality entertainment they will remember in the most positive way.
Here's how you can find the right balance between quality and a reasonable budget:
Time
Time is one of the variables that affect price of the entertainment the most. A typical wedding in the US has a cocktail hour and a reception that lasts between 3-6 hours. You can choose to have a DJ playing for the cocktail hour and the reception, just the reception, or just the dancing portion of the reception. You can always play background music if you choose not to have a live DJ during the cocktail hour and the dinner. Keeping these options in mind, you will be looking to hire a DJ anywhere from 2 to 7 hours.
The three most common ways DJs will price their services are:
Hourly Rate: Where you pay only for the time you require. For example: $100 per hour booked
First Hour Fee + Hourly Fee: This approach is very common amongst wedding DJs since a good part of the work happens before the wedding, which includes preparing the music, learning the schedule, and names of the wedding party. A short gig with an hourly rate is not desirable for the DJ, so they prefer to charge a higher price for the first hour and a lower one for as many hours after that. For example: $300 first hour and $50 per hour after that.
Flat Fee: Offering the service as a package , usually including equipment. For example: $1000 for 4 hours inclusive of DJ sound equipment. 
I personally recommend hiring a DJ per hour. Aside from the flexibility it gives you with regards to time, it also allows you to choose the equipment and lighting that is right for your wedding size and space.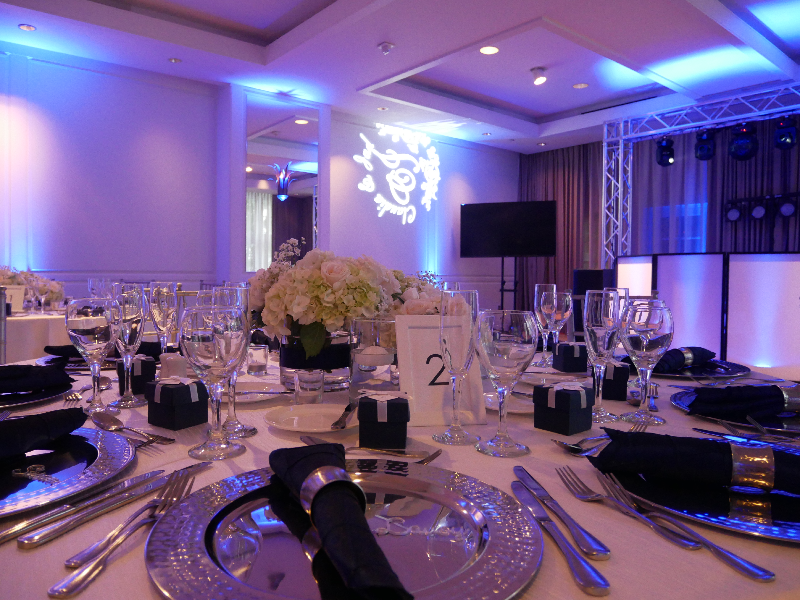 Experience / Popularity
The DJ's experience with weddings and overall popularity can greatly how much you end up paying per hour. A DJ with 10 years of experience in weddings will cost twice as much as someone new in the wedding DJ business. Proper music selection, MC'ing, introductions, schedules, etc make weddings very complex events, and having a DJ with hundreds of weddings on his resume could prove an invaluable asset.
The wedding DJ popularity will also affect the price. While a DJ who does not have many gigs can be cheaper when compared to a very active DJ, it can also be a red flag. You may want to ask yourself why the popular one has so many bookings in the first place.
With that said, you should expect to pay about $100 to $250 per hour for a wedding DJ. The only time you'll be paying more than that will be for a well-recognized DJ. Anything less than $100 per hour for a wedding DJ likely isn't a great idea. While you could find "a friend of a friend" that might do it for cheaper, it's probably not a risk you want a take for your wedding..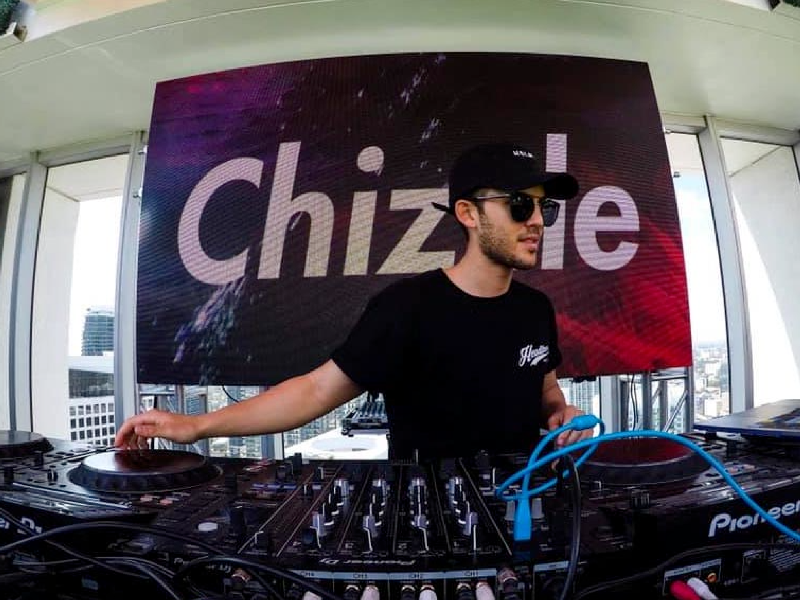 Sound Equipment, Lighting and Effects
As I mentioned earlier, many DJs might include equipment in a premade package. However, buying one of these packages can be a big mistake! No two weddings are alike and having a one size fits all approach to the sound and lighting equipment is a bad idea.
When choosing the amount of lighting for your wedding, you want to keep 3 main variables in mind:
How many guests in attendence: A small wedding with 50 guests or less would warrant simple sound equipment between $200 to $500 while one with 300 guests will need twice or three times as much sound so the music can cut through the chatter.
Type of space: The total size of the space for the reception is also an important factor. A 2000 sqft ballroom will require a fraction of the sound compared to a huge open-air event outside. The same goes for lighting, while 20 uplights should be enough for a banquet hall, a big space could require as many as 100. Another thing to consider is having the DJ playing in two different areas, cocktail hour and reception for example. Since you do not want technicians connecting cables in the middle of your wedding, you will be looking to rent two separate setups for those different areas.
Desired Atmosphere: Do you want a chill elegant event with some ambience lighting or a full-on party with visual effects? Synchronized lights and laser beams? You may want to discuss which kind of entertainment are you looking to offer your guests with your significant other.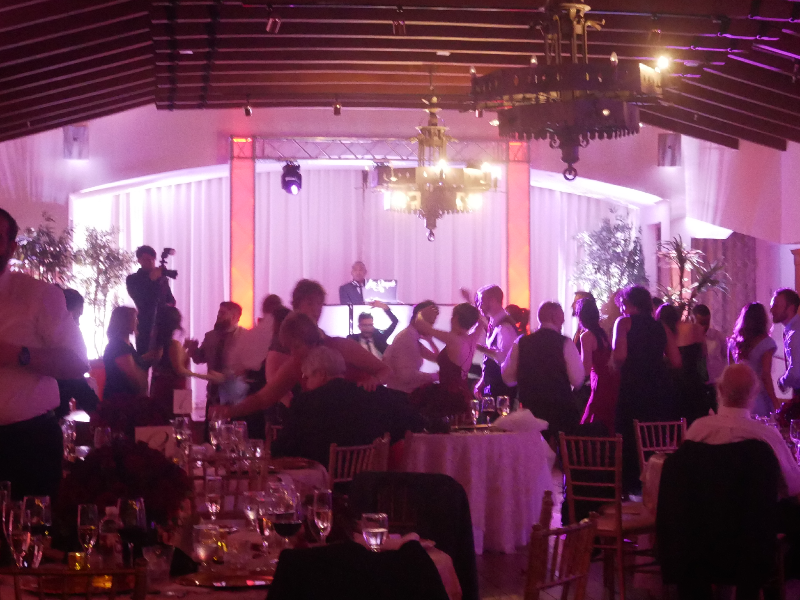 Special Requests
Finally, keep in mind special requests can sometimes add to the price of your wedding entertainment. Some examples of special requests include: Asking the DJ for music to play in the background during the cocktail hour, custom scripts for MC work, a highly customized music selection, travel time if the DJ lives far away from the event, or a specific kind of outfit that matches the theme of the wedding may add to the final cost.
The Takeaway
Ok, that's a lot of information and you still don't know how much it is actually going to cost you. So, let me give you 3 examples to help you visualize the price range you should expect for your wedding:
For a small wedding of 50 people, in a small hall for a service of 4 hours, you should be looking to pay anywhere between $600 and $1200

For a medium-sized wedding from 100 to 200 guests and service of 4 hours you should be looking to pay between $1000 and $2000

For a bigger sized event of 200+ guest, with more than one area of production or outdoor open-air, a 4-hour service will cost you between $1600 and $4000

The lower end of the range will be the minimum you should be looking to spend to ensure not only the quality of the DJ but also enough sound and lighting for the size of your event. If you want a higher quality DJ, or you want to add some cool light effects to the deal, you could end up spending in the higher end of the range.
Choosing the right service may seem difficult, and you could be tempted to go with the one option offered by the wedding venue. My advice: take your time, look through the media of the different candidates with your future spouse and figure out which sound and lighting will best fit your event. At Dry N Wet, we have hundreds of options to choose from. We also have a unique setup builder tool to will help you visualize how the different light and sound options will look in your space. Have fun browsing!
Wedding DJ Packages