Gentleman's Guide to a perfect Miami Wedding look
Miami WeddingStyle
Miami Weddings
Choosing a Miami wedding is a great option whether it's your destination choice or if Miami is your hometown. There are several venues to choose from, Hotels, Beach Weddings, and historic venues; South Florida has a little something for everyone. Wedding season is a little different in South Florida; it starts in November and ends in May with February and April being the peak months. No matter the venue or the time of year you choose to get married, one thing is sure, you want to look your best for that special day.
Grooming
Whether you keep the beard you have been growing since you graduated or you lost that fight with you future spouse, we recommend booking an appointment with a stylist the day before your wedding. Your fiancé would appreciate the clean look. With so many styles to choose from, we recommend speaking to the stylist and listening to their recommendations depending on your face structure and personal style.
The Right Tux
There are a few factors when it comes to choosing the right tux. What color should you go with? What fabric is the best? Are you Notch or Peak Lapel type of guy? Before making the final decision on what tux is right for you, consider these options to make your tuxedo as customized are possible. Picking the color of the suit, shirt, bow tie, and shoes are our first recommendation to finding the right tuxedo. Wool is the most common fabric but cotton and linen are also good options because of Miami's humid/ hot weather. You can also choose from different shirt plackets and cuffs. You're in Miami so show off a little with some nice cufflinks. Wearing a vest is probably not the best idea outside but they sure look great for a more formal look. We recommend seeing a stylist and taking your time with all the options to make sure they are right for you.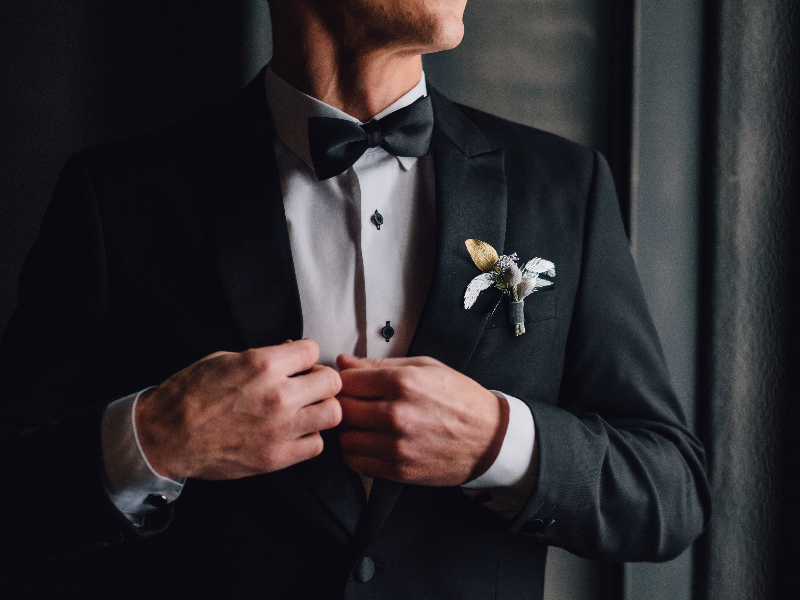 The Extras
If you're not a model, this will be the day where you will have the most pictures taken of you. We recommend have your teeth whitened right before your wedding. A nice white smile will not only give you more confidence but also will great for the pictures. If manicures and pedicures aren't your thing, make an exception for this one occasion; your fiancé will appreciate it.
Our Recommendation
With much anticipation, Jaxon Maximus is now ready to serve Miami with its headquarters in Brickell. Jaxon Maximus conveniently combines the art of men's custom tailoring along with stylish male grooming. It's a one-stop shop for men who want to look and feel their best. Jaxson Maximus will make it simple and easy for a groom and his groom's men to get fitted and styled for that special day. Heading over to Jaxson Maximus should be every event planners first recommendation. Make an appointment with a custom stylist and choose from the finest Italian and English Fabrics. Jaxson Maximus offers several custom packages that will constantly keep you looking sharp. Choose from one of the two memberships and receive a custom clothing gift card and discounts on all hair products. Head over to the salon after getting fitted to receive a catered grooming experience. Choose from a barber or stylist and receive a consultation where they will determine what styles would be best for you based on your face structure and lifestyle. All services come with complimentary drinks such as coffee, tea, soda, water, sparkling water, coconut water, craft beers, fine scotches, and bourbons. Arrive early and treat yourself to a drink at the bar and play pool on a custom built championship pool table. There are several other services such as hand and foot grooming, teeth whitening, and waxing. Jaxson Maximus truly provides everything a man needs to look his very best. Wedding season is approaching in Miami and if you're getting married, you must have the right wedding planner, wedding DJ, and the right tuxedo. We recommend Jaxson Maximus if you're looking to be confident in what you're wearing on your wedding day. The details and services they provide raise the bar on what custom fitting and men's grooming should look like.